8inch Smart Face Recognition Access Control Thermometry Temperature Measuring for Access Gates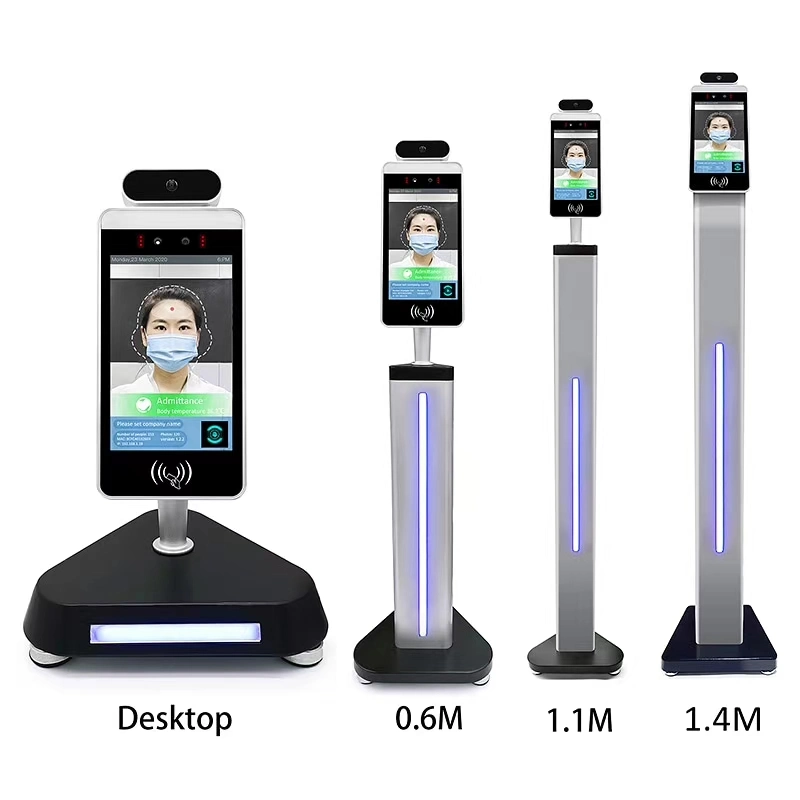 Vertical temperature measurement face recognition Access management module
Product Introduction:
Adopting the high-performance hardware platform of RSM micro rk3288 / rk3399 / Qualcomm msm8953, equipped with industrial grade binocular camera and human face recognition technology, as well as infrared thermal imaging module, it supports mask recognition. It also supports the extension of ID card reader, fingerprint instrument and other peripheral devices, which can be applied to gate channel and access control attendance, and realize the safe and efficient access control of personnel.
Application scenario:
It can be matched with access gate and access control for communities, office buildings, schools, hotels
Scenic spots, transportation hub centers and other public service places, etc.
Product Characteristics:
8-inch IPS full view LCD display is adopted.
Industrial appearance, waterproof and dustproof design, stable and reliable.
support 3W face database. 1: 1. The comparison recognition rate is over 99.7%, 1: n comparison recognition rate is over 96.7% @ 0.1% false recognition rate is over 98.3% @ 1% false rejection rate in vivo detection. The speed of face recognition is less than 1 second.Support accurate face recognition and comparison when wearing masks.It adopts industrial level binocular wide dynamic camera, infrared and led dual compensation at night. It supports the optional four core rk3288, six core rk3399 and eight core Qualcomm msm8953 processors with strong performance.Support human body temperature detection, temperature display, 1 meter ultra far temperature detection, 0.2. (: error, support and automatic temperature alarm, second level detection speed, attendance temperature measurement data real-time export.It supports a variety of peripheral extensions such as ID card reader, fingerprint reader, IC card reader and QR code reader.It supports system level, APP offline level and app + background network level API docking, complete documentation and secondary development.
Technical Parameter:
Product model:TPK-FRTD-001
Resolution: 200W pixels
Camera type: binocular wide dynamic camera
Focus distance: 50-150cm
White Balance Auto
Screen size: 8.0 "IPS LCD
Resolution: 800x1280
Processor CPU rk3288 quad core / rk3399 six core / msm8953 eight core
Local storage EMMC 8g
Accessories: fill light, led and infrared double fill light
Network module supports Ethernet and wireless (W old)
Interface audio supports 2.5w/4r horn
USB interface: 1 USB OTG, 1 USB host standard a
Serial communication interface: one RS232 serial port
-relay output 1 channel door opening signal output
Wigan interface: one channel of Wigan 26 / 34 output, one channel of Wigan 26 / 34 input
Upgrade button supports the uboot upgrade button
Wired network interface 1-way RJ45 Ethernet base
Face detection supports detection and tracking of multiple people at the same time
Face database supports up to 30000
1: N face recognition support
1: 1 face matching support
Stranger detection support
Function identification distance configuration support
UI interface configuration support
Device remote upgrade support
Equipment interface includes equipment management, personnel / photo management, record query, etc
Deployment mode: support public cloud deployment, privatization deployment, LAN use, stand-alone use
Human body temperature detection support
Temperature detection distance [M
Temperature measurement accuracy < ± 0.2 ° C
Temperature measurement range: 10 ° C ~ 42 ° C
Thermal imaging field of view 32 x 32 ° C
Visit object SIE Continuous constant temperature direct release support
Temperature over temperature alarm support (temperature alarm value can be set)
Protection grade: IP65, with certain outdoor dust-proof and waterproof functions
Power supply DC12V (± 10%)
Operating temperature - 10 ° C ~ 60 ° C
Storage temperature - 20 ° C ~ 60 ° C
General parameter power consumption: 13.5w (max)
Installation mode: gate support installation
Equipment size: 238.24 * 128 * 25 (mm)
Weight: 1.45kg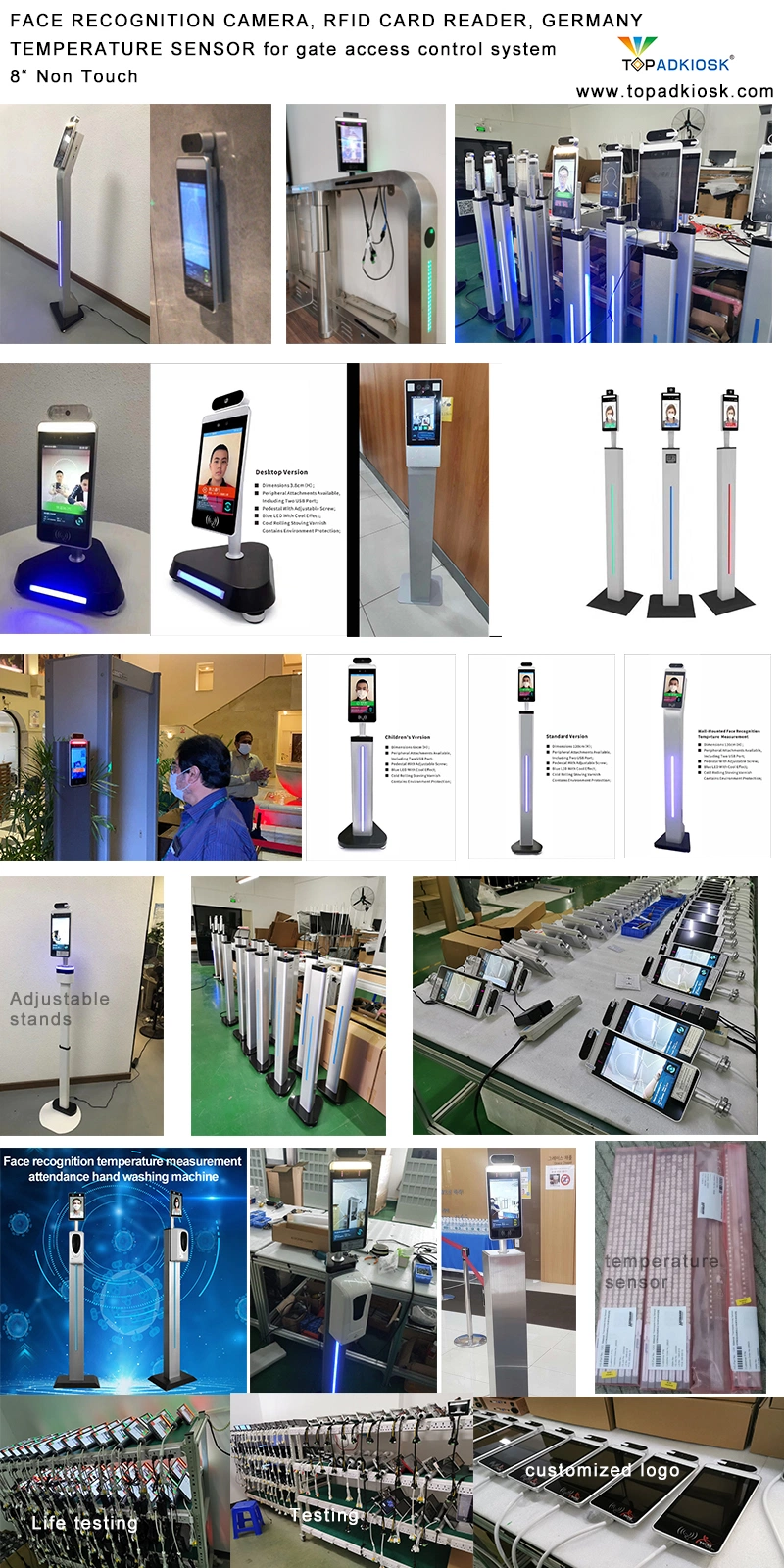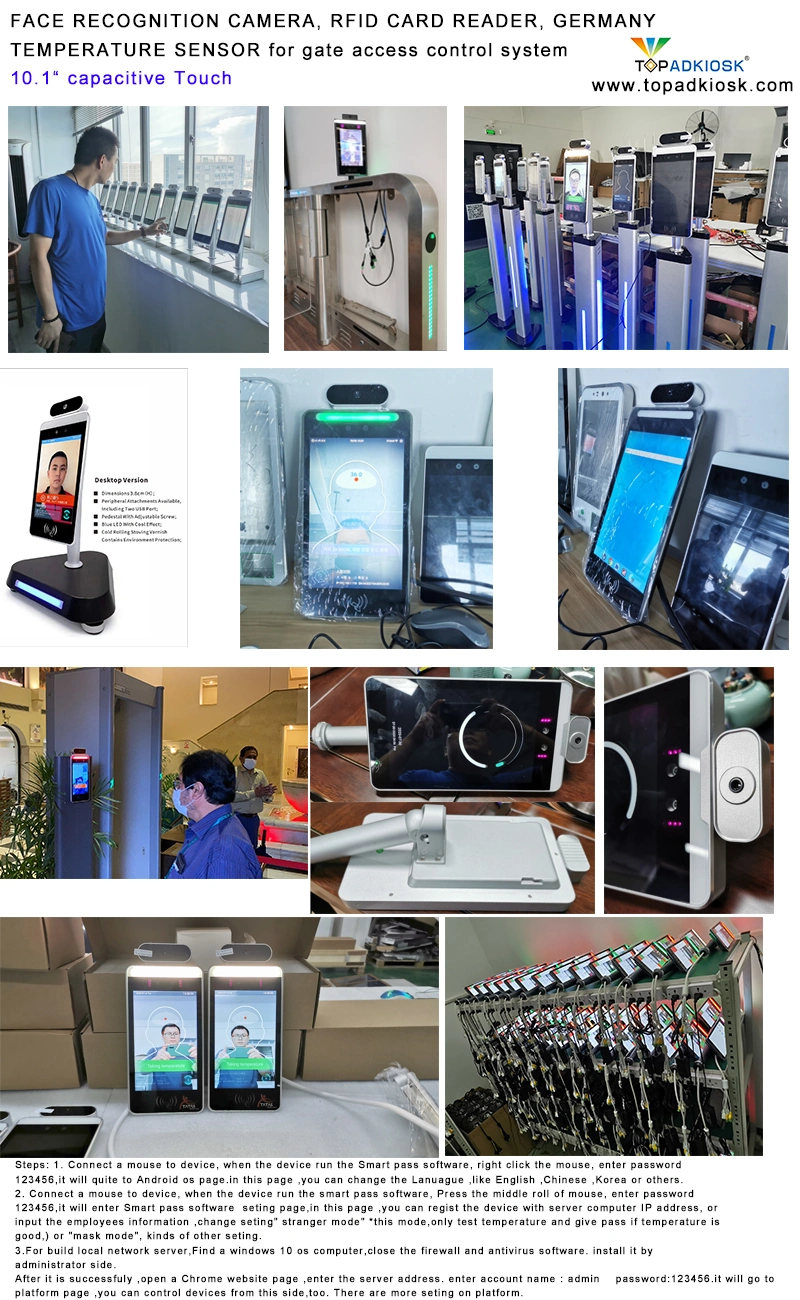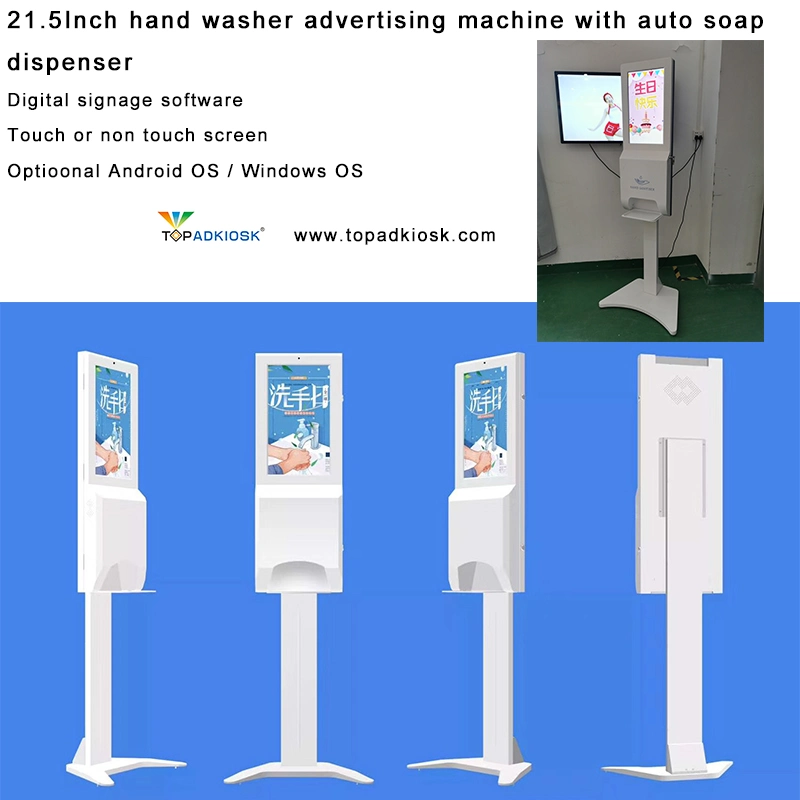 Fixed mode:It is mainly used for brake, which is screwed and fixed by screw base.
Shenzhen TOPADKIOSK is highly specialized in the field of LCD Digital Signage products, LCD DISPLAY, QLED display, OLED display. We have developed our own LCD products Series, such as digital signage, all In One PC, touch screen, lcd video wall, outdoor IP67 High Brightness LCD Digital Signage and TV, etc, the size is available with 7" Inch to 98 Inch etc. These products have been widely used in the USA, Europe, Southeast Asia, the Middle East, Africa and other countries and regions. These products are suitable for advertising in lots of areas, such as buildings, shops, hotels, supermarkets, railway stations, bus stations, airports, taxis, buses and other outdoor areas. Quality and Service is Our Symbol.The most important factor for us to win our customers' hearts and found the long-term business relationships with our customers is quality and service. With these years' research, development and manufacture, we have accumulated our special experience and methods to control the quality through the whole process of designing, material purchasing, manufacturing and marketing. Especially for the material quality, we have founded firm relationships with our suppliers and even invested in some supply companies to directly control quality. We offer 7*24 hours service to all our clients. Our sales person and after-selfteam will keep on line to answer and solve all questions for you. Providing services beyond our customers' expectations is our purpose. Our excellent pre-sales services and after-sales services have earned us many customers' hearts. Customized designs are most welcome! Our advantage is to give solution to our clients according to their needs.

AI Face Temperature Monitor system facial recognition system
Thermal camera temperature detection camera face recognition temperature detection monitor
Face Recognition temperature systems Facial Recognition Access Control System with Temperature Test

Test 10 walking people at the same time from Max. 10 meter!

AI Fever Screening System
TPK-TTA-AI Series
The TPK-TTA-AI Fever Screening System is designed to capture and recognize human faces, and test the forehead temperatures simultaneously. It's used to find out fever personals and give an initial warning for public safety and health purpose.
Max. 10meter; Testing 10 walking people at the same time.


Features
Face recognition + forehead temperature testing

Android

operating system

Artificial technology based algorithm guarantee accurate testing result and minimize ambient interference.

Support mask and glasses mode, minimize potential virus risks

Plug and play, easy installation
Specifications
Visible light
Resolution
1920×1080
focal length
8mm
Temperature testing
Temperature range
20ºC~45ºC
Accuracy
≤ ± 0.3 ºC (target temperature: 32 ºC ~ 45 ºC)
NETD
60mk
Temperature correction
Built-in black body,real-time calibration
measure time
<500ms
Measuring distance
Max. 10 meter
interface
Thermometer
RJ45
Facial recognition camera
USB
Integrate Android Sever
Power cable
Environmental adaptability
Operating temperature
16 ~ 32 °C accurate temperature measurement
storage temperature
-20~60ºC
Working humidity
<90% (non-condensing)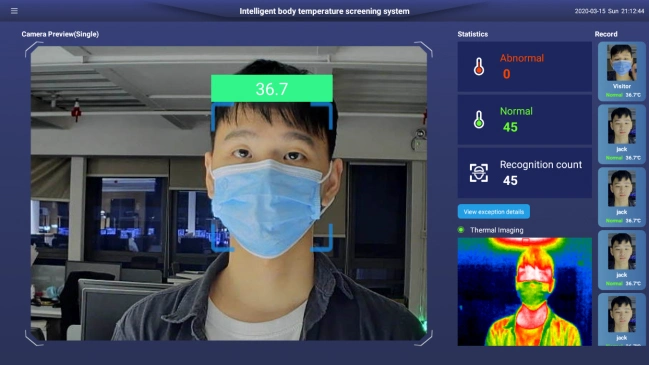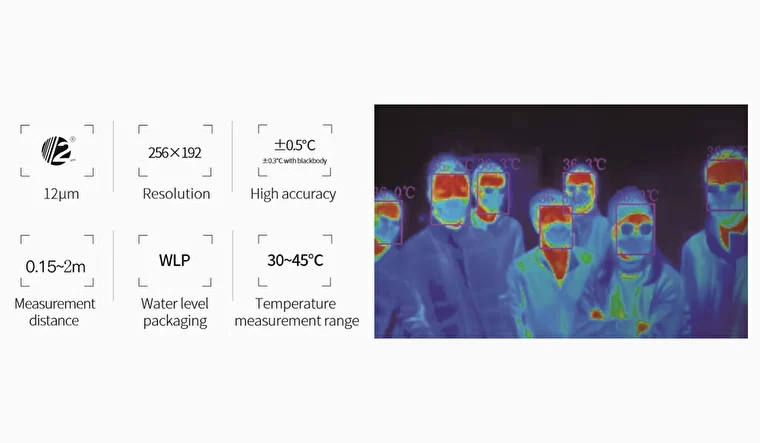 Software
Dual-spectrum camera, all-weather real-time monitoring
visible light for face recognition, and thermal imaging for body temperature monitoring
Recognize faces accurately through face recognition algorithms
Measure the temperature of the human face
Dynamic on-screen temperature displayed
Big data statistics: When a large amount of high-temperature data is found, alert the management staff in a timely manner.
Interface and sound abnormal alarm
Device settings, Record and personnel management