Supermarket Swing Barrier Gate Automatic Stainless steel arm Swing Barrier Gate Turnstile OEM Design
Supermarkets are public places, and everyone can go in for consumption. As an ordinary consumer, it is impossible to bring access control and cards at any time. Everyone knows that supermarket swing gates are mainly used to implement orderly traffic rules for the irregular flow of people in supermarkets. When no one enters the supermarket for consumption, the supermarket swing gate is automatically closed. At the entrance, only one-way traffic is allowed. If you enter illegally, the supermarket swing gate will automatically alarm. At the entrance, as long as someone enters, the gate will automatically open. It will not be restricted by the passage time or the number of times. It is a new type of swing gate worth promoting.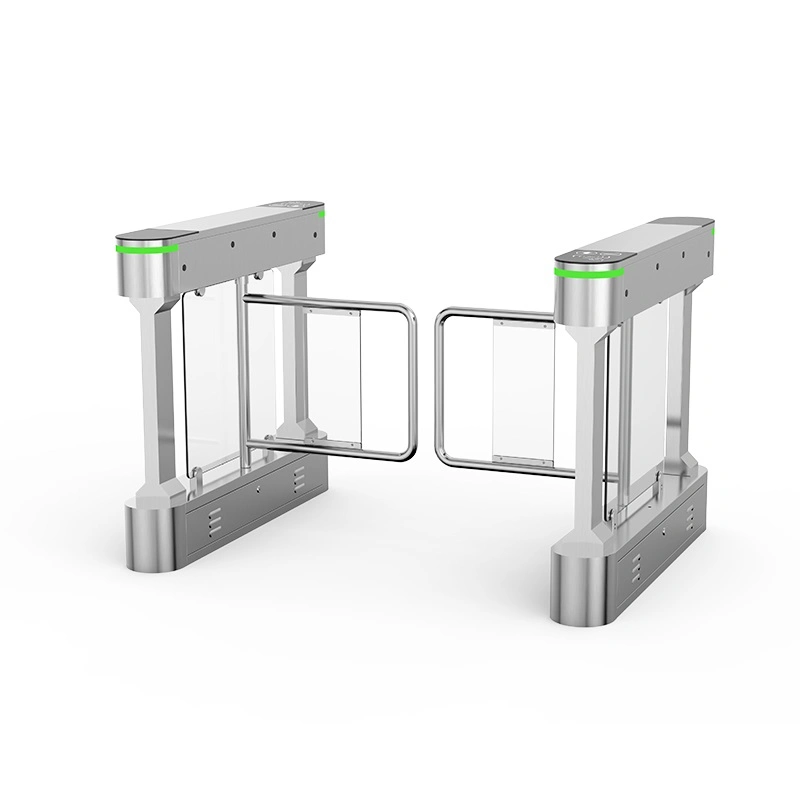 The brushless swing gate turnstile is an intelligent channel device, which can easily integrate IC card, ID card, two-dimensional code, fingerprint, face and other recognition devices, and can realize the intelligent and efficient management of the channel; adopts bridge-type high-end arc design appearance Exquisite and generous, it is mainly used for the management of the entrance and exit of the passage. It has the characteristics of safety, convenience, prevention of illegal entry and exit, and rapid control of free passage in emergency situations. It is widely used in commercial complexes, residential quarters, enterprises and institutions, factories, scenic spots, transportation hubs and other occasions where intelligent management of channels is required.
1. With fault self-checking and alarm prompt function, it is convenient for users to maintain and use;
2. Two-way card swiping, card entry and swiping, door opening and other modes can be set;
3. Anti-shock function, the gate will be automatically locked when the gate opening signal is not received;
4. Illegal break-in and trailing sound and light alarm;
5. Infrared anti-pinch function, during the resetting process of the gate, the gate will automatically return to the open state when the infrared detects a person in the passage;
6. The swing arms can be adjusted at the same time (for double swing conditions);
7. It has an automatic reset function. After opening the gate, the swing gate will reset automatically when it is not passing within the specified time, and the waiting time is adjustable (the default time is 5S);
8. The unified standard external port can be connected with a variety of access control equipment, and can be remotely controlled and managed through the management computer.
9. Support multi-functional system customization and docking.
Product parameters:
Physical dimension: 1200*185*1020mm
Infrared quantity:4 pairs
Material and structure: 304 stainless steel, tempered glass, acrylic
Power:40-60w
Channel width: 600-1200mm
Operating temperature: -20ºC~75ºC (low temperature version can be customized)
Material thickness: Foot thickness 1.2mm
Working environment: Indoor + outdoor (with rain shed)
Traffic direction: One-way traffic / two-way traffic
Relative humidity: ≤90%, no condensation
Speed: 35-45 people/minute
Voltage: AC220V±10%, 50HZ
Opening method: ID/IC card swiping and other readers verify the opening of the gate, and the infrared sensor automatically opens the gate
Drive way: DC 24V brushless motor, low noise
Gate opening signal: Dry contact signal/RS232
Protection function: Hall limit, electromechanical anti-collision, infrared anti-pinch, infrared alarm for illegal intrusion
Usage count: ≥9 million times